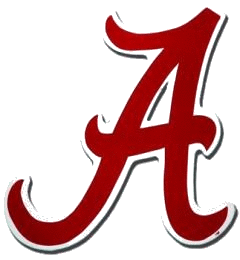 Tuscaloosa, AL
'Walk The Line - Umm - Circle'
---

The home locker room in Bryant-Denny Stadium is awesome – wooden lockers, stools covered with the Alabama logo and large restroom and shower facilities.

In the very center of the room, generally roped-off during public tours, is a plush carpet circle, 15 feet in diameter.

That rug is emblazoned with the Tide's 'script A' logo and has 'Alabama Crimson Tide' written around the edges. If you go on a tour of BDS, make sure you don't step on this particular piece of carpet – it's bad luck.

When the locker room was remodeled during Bryant-Dennys mid-2000s facelift, the logo rug was installed.

Players and touring fans alike have made certain that they do not set foot on it until the head coach calls the players together before they run down the tunnel to the field.

It has been said that if someone walks on the logo before game time, it brings a bad omen to team.

Directly above the rug, the ceiling is lofted and designed with the very best acoustics in mind.

Coaches don't want to have to raise their voices to speak to the 100+ team members, coaches, and trainers in the locker room at any given time; this allows the head man in charge to pump up the team while saving his voice for the game.